After a poor couple of days we have time to take stock and look at some of the strengths and weakness. I will concentrate only on 2010 as we are now heading for the winter and hopefully the usual upturn in fortunes as the All Weather starts to take greater prominences as trainers ready their horses for Autumn campaigns.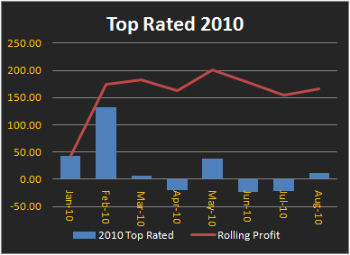 As the graph suggests we have been treading water a little during the summer months when looking at the overall picture. We may take a different view if we break this down by course.
In alphabetical order
Read more »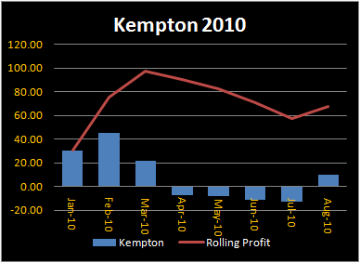 Although the recent down turn during the summer may be viewed in a negative light Kempton more than pays its way during the winter. As the summer of 2009 reflects a different picture I am prepared to ignore the summer down turn.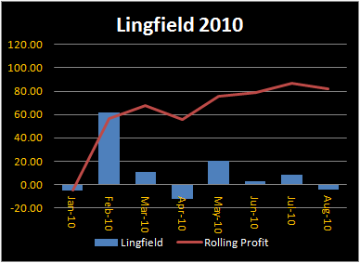 Profit at Lingfield Park has steadily grown even during the summer months. January's loss is largely due to the infrequency of meetings at that time of the year. With August in its early days, only April has seriously dented our profit. Taking in to consideration that most Lingfield meetings are split Turf and All Weather I am extremely pleased with the results here.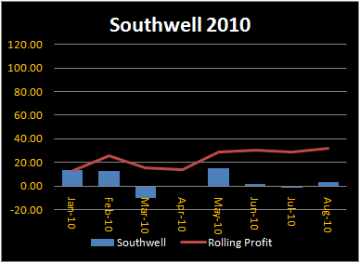 With the infrequency of racing at Southwell I am moderately happy with the steady growth in profits even during the summer months.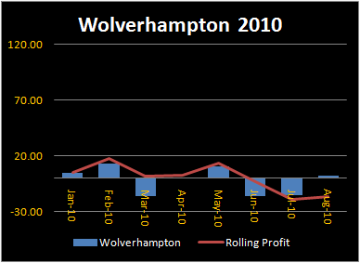 And here lies the problem. Wolverhampton (Dunstall Park) Although there have been nice priced winners here the Clerk of the Course Fergus Cameron has a passion for turning over the course far to frequently in my eyes. His motives unknown but I have grave reservations about his integrity as Clerk of the Course but I believe it is possible I enjoy his holidays more than he does!
Removing Wolverhampton from our overall P&L gives a far healthier picture. Granted there is room for improvement!
I always publish figs for Wolverhampton but suggest that there are very few races that we should get involved in there. This will be discussed in later posts.