It was nice to be back on track today after losing 4 points yesterday and having only one winner from the three selections. Unfortunately half the field were a 'no show' which left me with around even money on Tarooq after the rule 4's.
Although I am grateful for today's profit the day promised a lot more than it delivered. Having 2 points on Honest Strike at 14-1, we were denied a 28 point pay out by a nose and a head which left me feeling a little hard done by.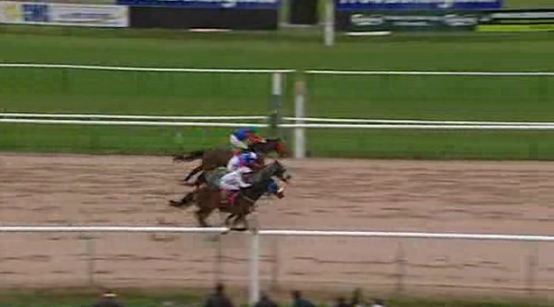 Honest Strike, furthest away with the red head gear, was given a mountain to climb in the closing stages but only just failed to peg back the deficit. Another two strides and the gamble would have been landed. Ironicly, the first three home were my top three ratings with SP's of 20's, 16's and 7's. Perhaps I should have been grateful for this two and a half minutes of entertainment as it was more than I got from the next 2 point selection Maltease Ah.
2 point selection Seemenomore winning, cut losses to 2 points, having taken 11-10 overnight. However, it was the next race that shot us ahead. There was no doubt who wanted the win more in the 2:50 with three in line as they raced inside the final furlong. Luke Morris, aboard our 3 point selection Bold Marc, couldn't have got closer to a riding ban and it was his animated galvanising of the selection that won the day by a margin far less comfortable than 1.1/2 lengths suggests.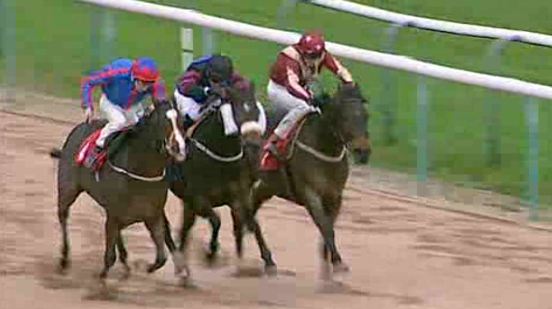 Another advert for BOG Bookmakers having taken 3 points at 7-2 this morning, Bold Marc drifted in the market and returned 5-1. So 13 points in the bank for the day with 2 x 1 point selections still to run in Southwells' last two races.
To reiterate my opening statement of 'the day promising far more than it delivered', No Dominion (available at 5-2) only just failed to get up in the 14:50. Closing all the way to the line Graham Lee was only just unable to get past Philip Makin on Royal Holiday finishing second by a neck. Finally, an edge of the seat ride as our selection Dewala (8-1) had the field at full stretch and looked likely to hold on only to be collared by 30 race maiden and my top rated Tobrata. Still, 11 points profit is better than...................