I am sure there are many among you that tend to question the wisdom of backing horses in Apprentice and Amateur races. As a man that plays percentages it comes as no surprise that I frequently have strong selections in these races and I am extremely keen to play heavily in them.
When you consider the purpose of these races it becomes easy to understand why form holds up so well. These lads are not riding for a day out at the races or for the riding fee. I would also be surprised if the connections are entering horses in the hope of getting a winning OR.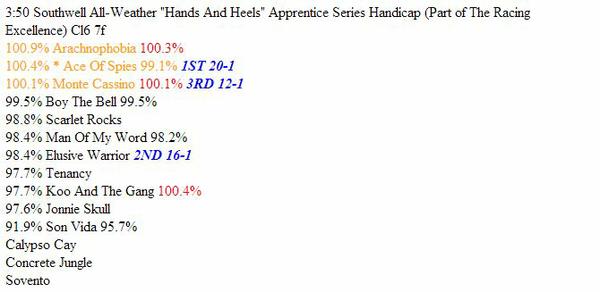 Yesterday at Southwell
The Actuary
starred selection Ace Of Spies won the Apprentice Handicap at 20-1. Today we saw Mutual Regards 11-8 (2-1 available) win the Apprentice Handicap at Lingfield Park.

History tells me these results are not a fluke and Apprentice Handicaps have been the most consistent race type in providing me with a profit for the last 4 years.
This is not a promise to deliver the winner in every Apprentice Handicap, simply a heads up not to ignore these races!