In my methodical selection process, the jockey booking plays little to no part as in my experience there are as many occasions where the jockey booking looks significantly favourably ending in failure as those that end in success.
I must admit I was not overly optimistic in my selection Community landing the 2:00 at Southwell when I became aware that 7lb claimer Leonna Mayor was onboard. With Joe Fanning riding the odds-on favourite, Jim Crowley, Russ Kennemore, Tom Eaves and Robbie Fitzpatrick, all adequate All Weather jockeys taking mounts in the race, it appear a tough ask.
From the off I had damned Leonna and from my experts armchair, having pony trekked on several occasions myself, I had decided that her every decision was going to be wrong.
Leonna bounced Community, drawn widest of the field, out in to the lead within the first furlong: Silly girl, she will never get home!
Leonna edged across to the rail: What are you doing, do you know how deep it is at Southwell on the rail!
Turning for home Leonna had stretched the field to leave only two contenders: Oh dear, she is no judge of pace and has gone to quick!
Joe Fanning who had been stalking Leonna throughout started to mount his challenge: Here we go, she will never be able to push this horse out for three furlongs, let alone keep its nose in front!
WRONG! WRONG! WRONG! WRONG!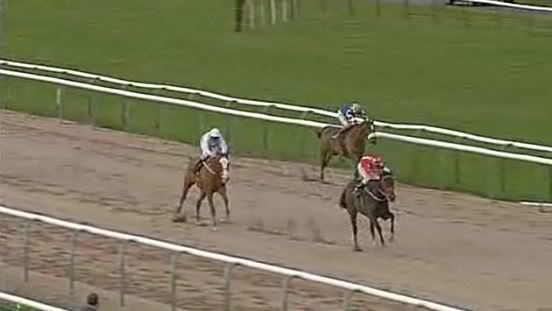 Leonna Mayor pushes out Community in the 2:00 Southwell 22nd December 2011
The ATR commentator summed the race up in one sentence 'Community is clear by 3 to 4 lengths and wins stylishly. Watching a re-run of the race you would be hard pressed to distinguish which jockey was the finished article as Leonna Major, hands and heels drew away from Jim Crowley.
I know that the adage of being only as good as the horse you are on springs to mind and this was only a Class 5 Fillies Maiden at Southwell but I have seen many an experienced jockey fail on the best horse!
Well! I am off to become a fully fledged member of the Leonna Mayor Fan Club, if there is one! If there isn't I may start one. Watch out Hayley Turner and 'No Legs'.